SPARK ANIMATION 2020: FESTIVAL JURY
CELEBRATING THE BEST IN THE WORLD OF ANIMATION
October 29 - November 1, 2020
 
THE 2020 SPARK ANIMATION JURY MEMBERS ARE:
Stay tuned! More coming soon.
SUBMIT YOUR FILM NOW
You can submit your work through FilmFreeway until 23 August, 2020. The extended deadline is 11 September. Visit our Submissions page for details.
BIOGRAPHIES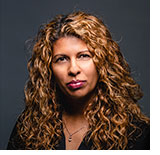 BRENDA GILBERT
Co-Founder & President // BRON Media Corp.
Brenda Gilbert is the Co-Founder & President of BRON, a company she co-founded with husband Aaron L. Gilbert in 2010. The BC-based parent company BRON Media Corp., has global divisions which include BRON Studios, BRON Creative, BRON Animation, BRON Releasing, BRON Digital, BRON Life, and an affiliate media fund, BRON Ventures. Brenda previously also served as President of BRON Animation, where she produced and recently delivered the original animated film The Willoughbys to Netflix. Currently, her focus is on BRON Life, the company's non-scripted division, where she's passionate about giving a voice to those who need one. Much of Brenda's time is also on BRON's charitable initiatives and on being a BRON's ambassador to the world.
She sits on the board of Film Independent, is the track chair for mentoring initiatives with Woman in Animation, and an Advisor to the Vancouver Film School, and LaSalle College. Over the course of her 20 years in the media and entertainment space, Gilbert has produced, or executive produced a number of animated and live action films including the award winning The Birth of a Nation, Monster, Assassination Nation, and The Nightingale. Her background includes many years at the British Columbia Securities Commission where she worked in the Finance, Enforcement, Legal & Communications Divisions.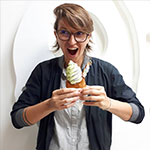 CÉLINE DESRUMAUX
Production Designer // Netflix & Pearl Studio
Céline Desrumaux is an award-winning production designer. She has worked on numerous projects including Harry Potter & the Deathly Hallows: Part 1, Back to the Moon, Asterix and Hotel Transylvania 3. Céline was nominated for an Annie Award in 2017 for her production design on The Little Prince. The following year she worked with Google Spotlight Stories and Chromosphere on the John Kahrs' directed animated short Age of Sail, for which was awarded both an Emmy and Annie Award in 2019 for her production design. Céline is currently the production designer on the Netflix and Pearl Studio animated feature Over the Moon.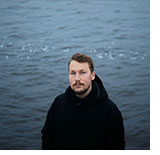 GINTS ZILBALODIS
Director // Independent
Gints Zilbalodis (1994) is a Latvian filmmaker and animator. His debut feature film Away which he made entirely by himself won the Best Feature Film Contrechamp Award in Annecy and has been selected in more than 70 festivals. His fascination for filmmaking began at an early age watching classic films and making shorts and commercials. Prior to Away, he made 7 short films in various mediums including hand-drawn animation, 3D animation and live-action and often mixing their characteristic aesthetics. Currently, he's working on his second animated feature Flow.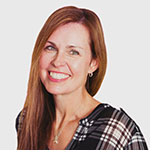 JENNIFER TWINER-McCARRON
CEO // Atomic Cartoons & Thunderbird Entertainment
Jennifer Twiner-McCarron is the CEO of Thunderbird Entertainment Group, and its Kids and Family Division, Atomic Cartoons. The Vancouver-based global multiplatform entertainment company creates award-winning scripted, unscripted and animated programming for the world's leading digital platforms, as well as Canadian and International broadcasters.
Jennifer Twiner-McCarron joined Atomic Cartoons, Thunderbird Entertainment's kids and family division, as the Head of Production in 2011. Under her leadership, the studio grew from 25 artists to more than 700 today. She has lead production on multiple titles including the Emmy-winning Beat Bugs for Netflix, Cupcake & Dino for eOne and 101 Dalmatian Street for Disney+. She is also an executive producer for The Last Kids on Earth, which began streaming on Netflix in 2019, as well as the upcoming series Princesses Wear Pants, which is currently in development.
Jennifer was promoted to Chief Executive Officer of Atomic Cartoons in 2016, then CEO of all Thunderbird companies in June 2018. She continues to hold both roles, overseeing the $61.5 million business (FY2019) as well as a team of more than 1,000 people, in Vancouver, Los Angeles, Toronto, and Ottawa. Jennifer's collaborative leadership is responsible for continued growth, creative excellence and thriving partnerships across Thunderbird and Atomic Cartoons, which culminated in the Company going public on the TSX Venture Exchange in November 2018.
Prior to joining Atomic, Jennifer was Vice President of Production for Rainmaker Entertainment in Vancouver. Over the past 20 years, Jennifer has produced or executive produced dozens of animated series, video game cinematics, and direct to DVD features, including the popular Barbie Princess franchise with Mattel Filmed Entertainment. Jennifer holds a Bachelor of Fine Arts from Carleton University in Ottawa, Ontario, and a degree in film studies from the Vancouver Film School. She is an award-winning producer having received multiple Leo awards, an ELAN, and a DTV award. She was voted one of the "Top 25 Women in Animation" by Animation Magazine in 2004, and named Executive of the Year by Playback Magazine in 2018. In 2019, she was also named by the Women's Executive Network (WXN) as one of Canada's 100 Most Powerful Women. Jennifer's greatest achievement, however, is her family and she cherishes spending time with her husband and three children.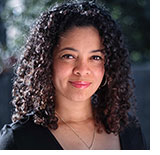 KATE MOO KING-CURTIS
Student // York University
Kate Moo King-Curtis brings more than 20 years of experience at the highest levels of the animation industry.
Moo King-Curtis excelled creatively and professionally as a layout artist at Fox, DreamWorks and Warner Bros. where she contributed to films such as Anastasia, The Prince of Egypt, The Road to El Dorado, Osmosis Jones and Curious George.
Upon her return to Canada, she taught at her alma mater Sheridan College and was a founding member of House of Cool in 2004. Moo King-Curtis' expertise and unique artistic perspective shaped her approach to production and management of projects at House of Cool until 2017. Since then, she has pursued an Honours BA in Children, Childhood and Youth studies at York University, where upon graduation she plans on enrolling in a post-grad in Art Therapy, to do research in the field with children and youth.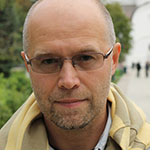 KONSTANTIN BRONZIT
Director // Melnitsa Animation Studio
Born 12 of April 1965 in St.-Petersburg. In 1983 graduated from Art school. In 1992 graduated from High institute of Art and Design where he learnt at the evening department from 1986. Simultaneously with that study from 1985 up to 1990 he worked as an animator at studio of popular science films. At that studio in 1988 made his first short film "The round-about". In 1994 he graduated from High Courses of scriptwriters and directors in Moscow (class by Fjodor Khitruk). His films totally won about 200 awards at different film festivals. (Some of them: Grand-prix Annecy '95 and Annecy '2016/ Grand-prix Annecy '97 in TV category/ Special prize of jury, public prize and Prize for the funniest film at Annecy '99/ "Golden Spike" in Valladolid '99/ "Animated Eye Award" in Aspen – 2000, 2004, 2008/ Best animation in Tampere, St.-Petersburg, Lisbon, Krakow, Potsdam/ Public prize, Press prize and Fnac prize in Clermont-Ferrand '2000/ Grand Prix in Rome, New-York, Taipei, Moscow/ First prizes in Zagreb, Chicago, Hiroshima/ Nomination for French Film Academy award "Cesar" (At the Ends of the Earth – 2001) Two ominations for Oscar: in 2009 (Lavatory-Lovestory) and in 2016 (We Can't Live Without Cosmos).
At present time lives in St.-Petersburg and works at animation studio Melnitsa. Member of the French Film Academy and Academy of Motion Picture Arts and Sciences.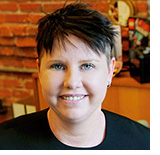 SHARON TAYLOR
Group COO // Animal Logic
Sharon is the Group Chief Operating Officer of the Animal Logic Group, where she is responsible for the leadership and management of the production and operational activities across all three locations — Sydney, Vancouver and Los Angeles. As part of the Executive Leadership Team at Animal Logic Group, Sharon is instrumental in guiding the strategic planning and growth of all three locations alongside the CEO. Following the delivery of Peter Rabbit 2 in early 2020, she is now overseeing the production of Super Pets, set for release in 2022.
Sharon joined Animal Logic in 2005 and progressed from various production accounting roles to eventually become the Head of Production Accounting in 2011. Her deep experience and insight into the fields of animation and VFX led her to fulfilling the role of Group Head of Production in 2014. Legend of the Guardians: The Owls of Ga'Hoole, The Great Gatsby, The Avengers and The LEGO Movie franchise are just a few of the films that have benefitted from her strategic guidance. She also lends her years of experience in production accounting to the financial planning, analysis and reporting for the Animal Logic Group.
Prior to becoming COO, Sharon took the helm of Animal Logic Vancouver as Executive Vice President and General Manager, overseeing the start-up and rapid growth of the new studio through to delivery of The LEGO Movie 2: The Second Part of which she was also Co-Producer.
Sharon is currently a board member of DigiBC and the Motion Picture Production Industry Association of BC. She is also the Vice-Chair of the Vancouver Chapter of Women in Animation and of the Animation & Visual Effects Alliance of BC. She enjoys building collaborative teams working together to achieve greatness. A strong proponent for inclusivity, Sharon is committed to supporting initiatives that ensure equal representation in the digital realm both on and off the screen.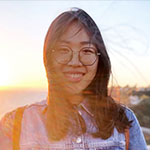 SIQI SONG
Director // Independent
Siqi Song is an animation director and animator from China. She studied at China Central Academy of Fine Arts before turning to filmmaking and receiving her Masters in Experimental Animation at CalArts. Song was named a Film Independent Directing Fellow in 2018, BAFTA Los Angeles Newcomer in 2019 and was nominated for an Oscar for her animated short Sister in 2020. She also contributed to the Oscar-nominated Feature Animation Missing Link and Netflix Original Series Ask the Storybots. Song is currently based in Los Angeles, California.
SUBMIT YOUR FILM NOW
You can submit your work through FilmFreeway until 23 August, 2020. The extended deadline is 11 September. Visit our Submissions page for details.